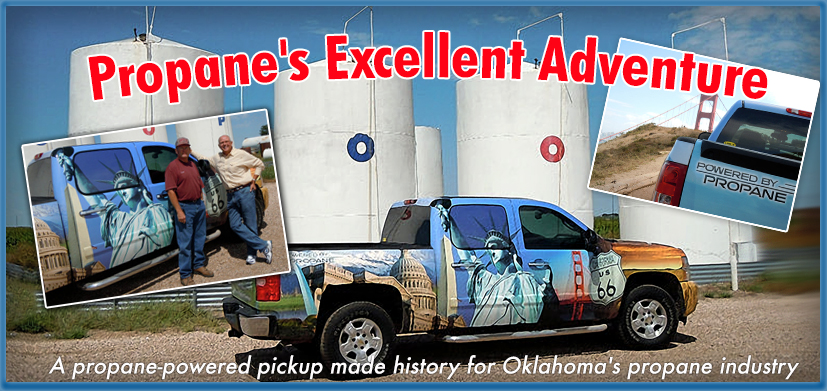 In the Spring of 2010, Honda Motors announced that Oklahoma would soon become the fourth state in which Honda CNG powered, dedicated-fuel automobiles were marketed. This announcement created quite a stir at the State Capitol…so much so that state legislative leaders attended and took part in Honda's Press Conference. Following the formal announcement, one Oklahoma legislator said this was an exciting opportunity for Oklahoma motorists because they could now drive their dedicated-fuel CNG automobiles from Oklahoma City to Dallas (and back again). However, being a realist, he also offered a word of warning…don't try driving from New York to California. We at OPGA read these accounts. Not long afterward, plans for Propane's Excellent Adventure were born. OPGA's Executive Director, Richard Hess, said if he could borrow a propane vehicle and arrange for some navigational assistance, he would drive from New York City to San Francisco using only propane autogas. He correctly pointed out that this would be a huge challenge in a CNG automobile but, he said it would be a walk in the park in a vehicle fueled by propane. So, Hess began looking for a propane vehicle he could borrow for a few weeks, and he began lobbying his daughter to sign on as navigator and publicist. Four months later, he and his daughter, Abigail, departed from Times Square in New York City with the final destination of San Francisco, where they planned to visit Richard's daughter and Abigail's sister, Rachel Hess O'Brien, and her husband, Blake, at their California home.
The following photos were taken during their 10 day trip which spanned more than 3,200 miles and 10 states including the District of Columbia. No refueling stops were planned, and other than their first night in Washington, DC, they had no reservations along the way. Richard and Abigail refueled when they needed to, and found a hotel when they were tired. They say it was the trip of a lifetime although, when asked, they didn't seem anxious to make the trip again. Apparently, 10 days and 3,200 miles together in the cab of a pickup is more than enough togetherness even when you're using propane autogas.
Propane Autogas
Fleet managers and individual motorists alike are quickly discovering the benefits of clean, green propane auto gas for their vehicles. Taxis, school buses, limousine services, ambulances, delivery vehicles, etc., are all making the switch to propane autogas for both their new vehicles and for those to be converted.  Many smart owners are turning to autogas because, it costs a dollar or more per gallon less than gasoline or diesel fuel. Autogas costs even less when you factor in the cost of converting a vehicle or fleet as propane conversions typically cost only half as much. Propane autogas also reduces the wear and tear on your engine. Autogas has a higher octane rating than gasoline so clean burning propane lets you spend less on maintenance and helps keep your vehicles on the road longer. Propane is also road tested. While the wholesale switch to autogas may be new, the fuel itself has been around for more than a century. In fact, as many as between 18 million and 22 million vehicles are in use around the world today. Plus, propane autogas is environmentally friendly, American produced, and readily available. Autogas also produces 20 percent less carbon monoxide, 40 percent less nitrogen oxide and 10 percent less carbon dioxide than gasoline, and more than 90 percent of our autogas supply is produced right here in the USA.  (Another 7 percent comes from our neighbor to the north… Canada.) Thus, every gallon of propane autogas in use decreases our dependence on foreign oil and aids our economy. And, since propane is produced from natural gas and crude oil and since it is processed at American refineries and gas processing plants, the technology is clearly already in place as is the infrastructure. In fact, more than 2,500 fueling stations are already in operation. Unlike other alternative fuels, when you choose propane, you can easily drive from New York City to San Francisco without wondering where you will fill up next.
So, get with the in crowd! Get propane autogas. You and your vehicle will be glad you did.
Resources
You can learn more about the propane autogas financial incentive by using the following resources:
Click on the link below to read a report about Oklahoma's alternative fuel infrastructure written for The Oklahoma Academy by OPGA's Executive Director, Richard Hess.